Professional Door Supervisors for Pubs, Bars, Nightclubs, Hotels, Casinos, Events.
Our SIA Licensed Door Supervisors provide peace of mind to our valued clients, whilst representing their premises. Whilst engaging with the night time economy operators, our uniformed door staff are identifiable, equipped with Body Worn Video Cameras and a variety of skillsets. Both our male and female door supervisors are presentable, approachable, reactive and customer focused to enhance the safety of customers and staff at a variety of licensed premises. Door Supervisors in Warrington, Manchester, Liverpool, and across North West England.
We are highly regarded by numerous Police Forces, Local Authorities, and the Security Industry Authority for working towards reducing anti-social behaviour, crime and disorder in and around licensed premises. We continuously endeavour to meet the ever-changing requirements and needs of our clients.

Door Supervisors are SIA badged, fully insured, screened and vetted.
Door Staff have a positive attitude, flexible, reliable, trustworthy, with a great deal of
common sense. Door Supervisors
are hand picked, mature, and highly experienced individuals, with a high standard of presentation, excellent written and verbal communication skills. Door Supervisors
are first aid trained and have attended a three day first aid at work course
which is HSE approved
and certified.
Door Supervisors are :
Uniformed Door Supervisors

Vetted Security Operatives

Self Defence Trained




First Aid Trained

CRB Checked

SIA licenced

Reliable, Punctual, Polite

Mature, Experienced, Trustworthy

Able to look after your property, staff, and clients

Single shift cover

Long or short term contract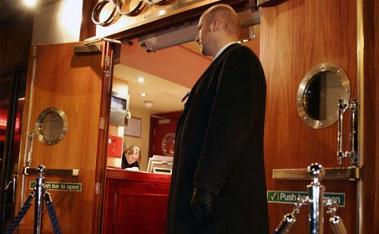 We provide Door Supervisors for pubs, clubs, hotels, casinos and other venues where a discreet and professional security presence is required. Our door supervisors ultimate aim is to fulfil their duty of care to protect your clientele, property and your staff, your reputation among your neighbours, the wider community, the local authority and the police, and even your suppliers and chain of command. All this matters to the success of your business, and our aim is to protect it.
The qualities of a Spartan 24 Hour Security Door Supervisor

We're proud of the high standards our door security teams maintain, and that they always push for a better standard for the businesses they represent. Our door supervisors are presentable, hospitable and welcome your clientele – as we supply dedicated teams, they will get to know your regulars as well as you do. We ensure that each operative is licenced by the SIA, meaning they have been properly vetted and trained accordingly – for example, in terrorist threat awareness, physical intervention and first aid.
We take training seriously, so not only will door staff be inducted properly and have been chosen for their strengths and skills relating to your business, they will also be encouraged to undertake ongoing training and education and take a pride in their work. Each is experienced and mature enough to deal with any situation that arises in an appropriate way.
This type of dedication shows in the ways they welcome your clientele, and how they handle a brewing situation or sudden and unexpected trouble with an appropriate and effective response, followed up by full reporting for accountability purposes.
Copyright Spartan 24 Hour Security 2008